Online retailer Kalita.Gold offers Ghana investment coins. In our company, they are represented by the Ice Age Giants series. We sell original banknotes of high quality. All of them come in individual packages made of durable plastic. Such capsules protect the products from adverse factors, extend their shelf life. Below we will consider the participants of the series in more detail.
Coins of the popular series
All banknotes are made of 9999 gold, which gives them special value. The release of the famous series was announced by the German company Leipzig Precious Metals Processing, an issuer of Ghana. The whole set is dedicated to animals that lived hundreds of thousands of years ago. The first to be released was Woolly Mammoth. It became the basis of the famous series, and its circulation amounted to 1000 pieces. The face value of the cash badge is 500 Ghanaian sedis. For the production of the product, the gold of the highest sample was selected. Weighs one instance 31.1 grams.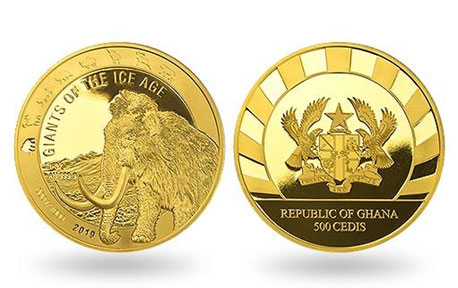 Following the mammoth, three more coins were released: Cave Bear, Irish Giant Moose, as well as Saber-Toothed Cat. As part of the series, all banknotes were presented in gold and silver.
The animals are captured as they were tens of thousands of years ago. A mammoth against glaciers, a roaring bear with large claws and fangs, an elk with huge branched horns, a wild cat with two fangs, a spread mouth and sharp claws. We can safely say that these investment coins of Ghana perfectly convey the atmosphere of that time. All images are drawn in detail, up to the smallest details. None of them, like the coins themselves, can be ignored by numismatists.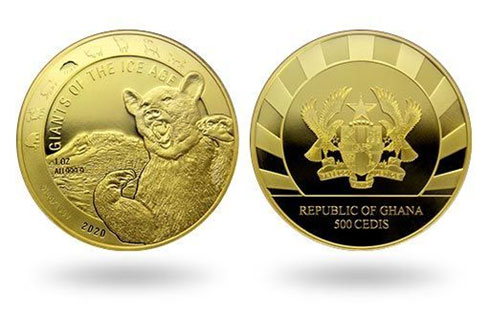 The image of the animal is presented on the back of the banknotes. The front part is dedicated to the coat of arms of the Republic - a heraldic shield supported by two eagles. A five-pointed star is placed above the coat of arms, and below there is an inscription that translates as "Freedom and Justice." Under the symbol is a line under which the name of the country and the denomination of the coin are indicated.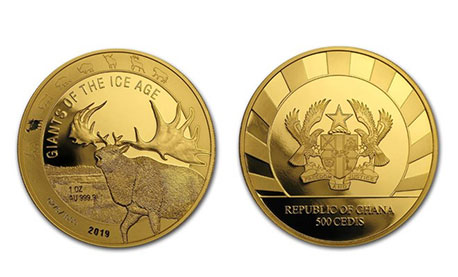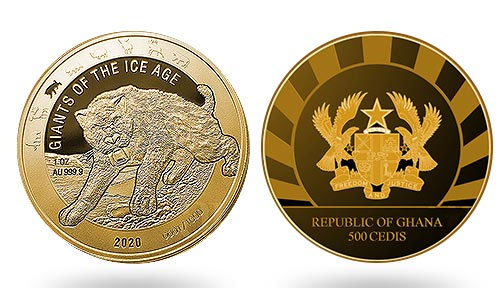 How to buy in the online store "Kalita.Gold"
In the online store, you will find gold coins that will work well for investment for a long time. Certificates confirming their originality and quality are attached to all currency signs. Each product is placed in a special capsule made of durable plastic. In addition to her, a gift case is attached to the money signs.
You can buy one or more coins of the series for yourself or as a gift. So you get a good investment for a long time. You can find out more information, as well as place an order with our managers through the feedback form indicated on the website.